In a recent announcement, Saga has unveiled its plans for the upcoming launch of the Saga protocol V1. Recognizing the intricacies of the new protocol, Saga has decided on a phased approach to guarantee a smooth rollout. This article provides a snapshot of the technical launch process, the main components involved, and an initial look into the $SAGA tokenomics.
The Launch Blueprint:
Technical launch and a brief on tokenomics
Participation details for Innovators
Insights into community involvement
An in-depth dive into Saga Tokenomics
Key Aspects of the Launch:
What: The elements set for launch
When: The timeline for each phase
How: The methodology behind the launch
Why: The reasoning for the phased strategy
Tokenomics: A preliminary breakdown of $SAGA tokens
It's worth noting that a more detailed exploration of tokenomics and the mechanics of participating in airdrops will be addressed in subsequent releases.
Introducing Saga Realms:
Earlier in the year, Saga introduced its Realms feature, a platform allowing developers to initiate customizable chains on Saga. The launch is set to be segmented into three primary components: the security chain, the platform chain, and the Chainlet.
Security Chain: This acts as the foundational security source, where $SAGA tokens are minted and staked.
Platform Chain: A hub where developers can launch and oversee Chainlets, pooling security from multiple chains.
Chainlet: This serves as the main computational center, facilitating end-user interactions.
The Six-Phase Launch: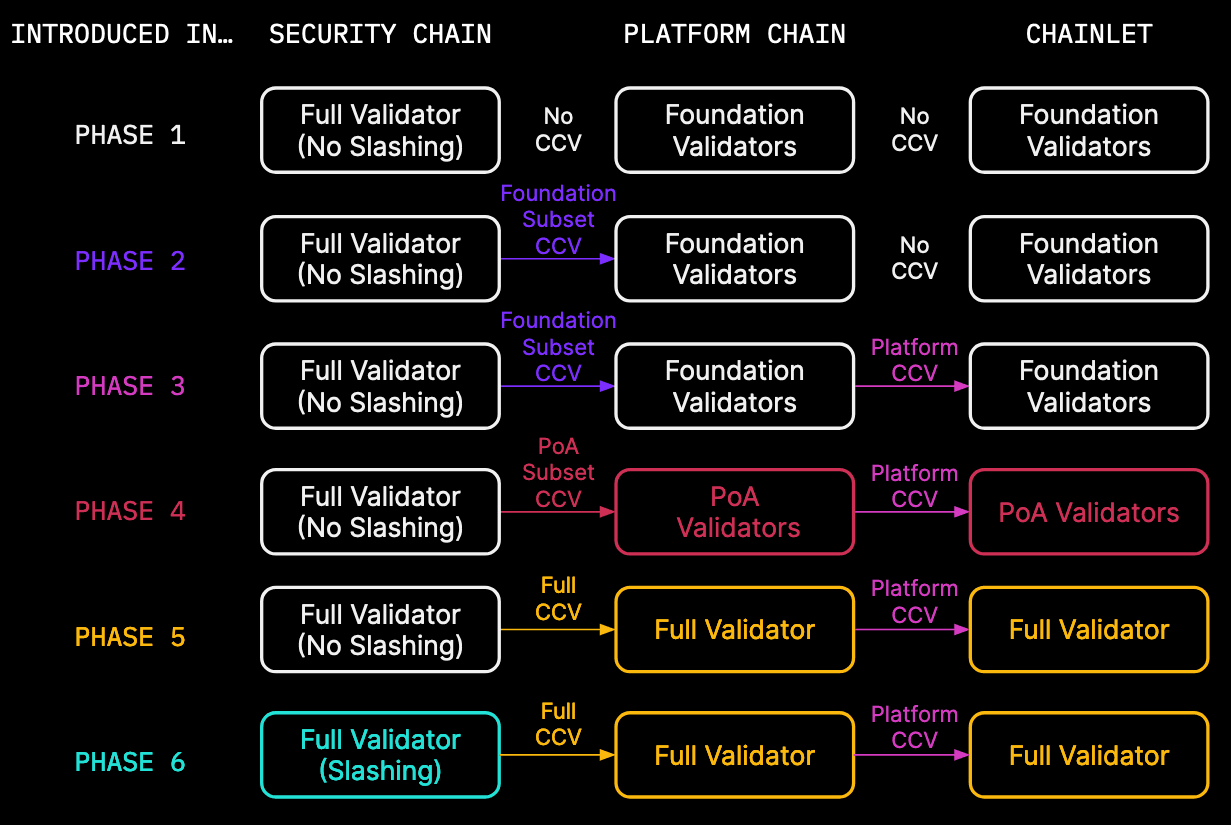 Saga's launch strategy is compartmentalized into six distinct phases, culminating in the full operational capability of the Saga protocol V1 by the end of the sixth phase.
Phase 1: The security chain sees its launch.
Phase 2: Introduction of the basic Cross-chain Validation (CCV).
Phase 3: Chainlets begin to inherit the security of the platform chain.
Phase 4: A phase of onboarding external validators to manage the platform chain.
Phase 5: Full security from the security chain is integrated into the platform chain.
Phase 6: The security chain gets a slashing feature, and the $SAGA token becomes operational for provisioning Chainlets.
Rationale Behind the Phased Launch:
The segmented approach is designed to test each component in isolation, aiming for a rapid yet secure launch. This strategy promises benefits across the board – for validators, developers, stakers, and end-users.
A Glimpse into Tokenomics:
Upon the initiation of Phase 1, the $SAGA token will be activated. The total token supply at TGE is slated to be one billion, with allocations as follows:
Core Contributors (20%): With a 3-year lockup and a 1-year cliff.
Fundraising (20%): Also subjected to a 3-year lockup and a 1-year cliff.
Ecosystem and Development (30%): Aimed at bolstering the Saga ecosystem.
Foundation Reserve (10%): Reserved for diverse applications.
Airdrops (20%): Set to be distributed in stages, bolstering the Saga ecosystem.
In Conclusion:
The launch of the Saga protocol is keenly anticipated in the tech community. As more details emerge, stakeholders and enthusiasts alike will be watching closely.