GM Kujirans! Well, well, well… It's been a long time, hasn't it? Now, where do I even begin? The last Weekly Roundup I posted was literally TWO ENTIRE MONTHS ago, and I can tell you're starving to hear about how my life has gone in that time. Right? Well, exams are over, partied pretty hard for a few weeks, began training for a half marathon, and Arsenal… Ok, let's gloss over that. But enough about me, I hope you've all stayed afloat and weren't too over-invested in [REDACTED] alts, may the Bull Gods bless us with BGD all summer long. Let's get into the alpha then, shall we?
As always, these articles summarize all Kujira-related news over the last 7 (ish) days, keeping you up-to-date and informed.
Written by KP
(Boy it feels good to be writing again, we're back mfs)
SONAR BETA TESTING
I'm sure this news comes as no surprise to anyone reading this, you've only been asking "Wen" for the last 7 months… But yes, the Sonar beta is 
📢📢 The @SonarWallet is now available for PUBLIC BETA for iOS users 💥 The 1st 10K iOS users will get the chance to use & test the app with full functionality (Android coming very soon). For this phase of the rollout, we're using the TestFlight app 📱 Details below 👇 🧵 1/4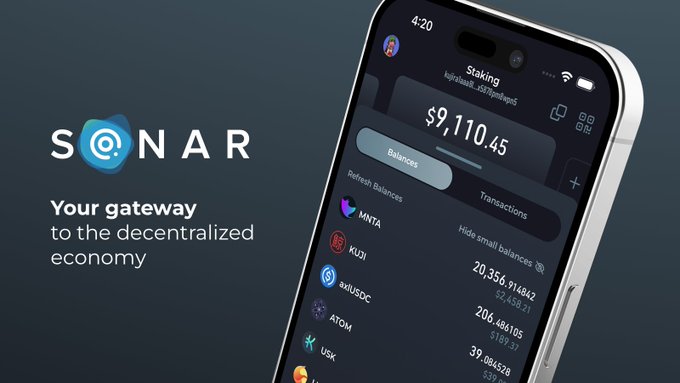 and boy is she beautiful. Connecting the entire Kujira ecosystem at your fingertips, Sonar aims to put the stabilizers on the learner bike, reducing the friction of onboarding to Kujira and providing mobile access to our many dApps. An incredibly necessary advancement, no doubt. ORCA, GHOST, etc. will be arriving soon (yep, feel free to "wen" your heart out) to complete a truly "CEX"-style app with liquidation bidding and borrowing/lending from your mobile device. Nuts, right?
But wait, there's more. 1-click deposits from any non-EVM chain to Kujira? Check. Restore your MetaMask wallet to Sonar? Check. Something about IBC that Hans got people excited about that I pretended to understand? Check.
But you need not listen to this biased idiot talk about Sonar, check out all the 
🉐📡@SonarWallet has captured my heart, I never want to use another web3 wallet ever again (still holding out hope that someone saves Station Mobile). Maybe the @TeamKujira app suite is what gives it an unfair advantage, but Sonar is just next level. 👏 $kuji
. Like 
It's the next generation wallet! Easy on-ramp! Transfer funds from chain to chain with 1 click, All native apps are coming to this wallet and payments for commerce Savings accounts! Kujira it's aim to become a neo bank!
. And 
Playing around with @SonarWallet For a beta this is a very 'buttery' and easy experience. Imported from keplr easily then switched on my desktop to sonar. @TeamKujira - Amazing. Thank you!!
. Oh, what about 
I'm about 5 minutes into testing and thoroughly pleased. Going to try and test everything to help find/squash any issues!
? You can't forget 
On everything name a more slick wallet than @SonarWallet ... I'll wait
…
KUJIRA X ARBITRUM
This one I feel extremely passionate about. In a small Telegram group chat resides the Underrated Avengers of the Kujira ecosystem — Brob, PM, and of course — myself (unbiased). With the help of these two legends, KUJI has successfully migrated to Arbitrum, with over $300,000 of liquidity at the time of writing across 3 major exchanges: Camelot, Chronos, and Uniswap. KUJI on Arbitrum means eyes on Kujira, and rich eyes too 😉
But more importantly, Kujira can now spread its roots throughout the Arbitrum ecosystem, securing invaluable connections along the way. Talks have already begun with a few protocols and I foresee many more continuing in the future, this is just the beginning. Be sure to follow these two and be prepared for them to contribute even more value in the near future…
MAGIC MIKE, THE MAGICIAN AT MANTA
Ok, props to me for a banging sub-heading, but Mike truly is an inspirational person. While juggling a baby in one hand and a laptop in the other, the launch of Mantaswap and its recent developments have been incredible to watch. The first big piece of news was the 52,801 KUJI grant given by The Senate to MantaDAO that was used to seed a MNTA/KUJI pool on BOW. But why deposit on BOW, when you can just deposit in-app at mantadao.app, whilst simultaneously claiming ALL BOW rewards in a single click?
Currently, MNTA offers the following APRs on BOW:
Finally, 500,000 MNTA has been allocated to the development of CORP — A protocol that allows anyone to create a DAO on Kujira that can be controlled through a native Kujira denom, and the ability to create proposals and manage a treasury on Kujira.
GHOST DASHBOARD
There is now a dashboard on GHOST where you can easily see & manage your borrowing and lending positions. Make sure you say thanks to Dove for teaching Brett how to build pretty UIs!
Furthermore, GHOST has achieved more than $1M worth of GHOST deposits just in stablecoins! Of which, more than 60% are actively being borrowed and generating real revenue for both $KUJI stakers and GHOST lenders. Ze Flywheeeeeeeel.
SHADE PROTOCOL CHADS
First and foremost, Shade Protocol peeps are chads. Kujira has not had the most welcoming entrance to Cosmos, but the teams at Shade and Secret have been incredible to us recently and I think it's prudent to show our support back. With this in mind, Shade and Kujira have partnered up to incentivise SILK / USK stablecoin pools on both Shadeswap and BOW. The pool is already live on Shadeswap now, with BOW to follow shortly. This is the start of a long-lasting partnership that will bear many fruits in the future, watch this one closely…
KEEPING UP WITH CALC
Man, it's been a while since we spoke about CALC, so you know there's a sh*t load to say… Following a successful integration with Osmosis, CALC launched their V2.0 with Reinvest + looping, weighted scale in and out, custom time intervals and many more. You can learn more about these features in 
T-24 hours until V2.0 goes live. 🚀 V2.0 comes with: → Reinvest & looping → Weighted scale in & out → Custom time intervals → ...and more 🤔 More power for decentralized exchanges! 💪 A 🧵 on each one.
, which I highly recommend getting to grips with. It outperforms general-purpose DCAs by a large margin and could help to maximize your accumulation over the next few months, 
set up a new vault
today!
Speaking of vaults, too many new assets have been added to name them all so go and check them out for yourself. Finally, if you would like to edit your strategy whilst its currently active, you are able to now! GO DO IT. NOW.
COINHALL "HALLSWAP" LIVE ON KUJIRA
Coinhall has now integrated Kujira on Hallswap, their native DEX aggregator, allowing users to swap across all supported token pairs while viewing their price charts and analytics simultaneously. I personally have a lot of love for Coinhall from the Terra days, so to see them working with us now is so great to see!
HUMMINGBOT INTEGRATION WITH FIN
Hummingbot allows the creation of custom-tailored market-making bots for FIN that will allow the community to profit from the bid/ask spreads on FIN. Not only does this produce real yield for our community, it also should help to tighten the spreads on FIN too, improving the overall trading experience.
Our friends at FunttasticLabs have been doing an INCREDIBLE job with the Hummingbot adapters for FIN, however, they need our help with this vote at the time of writing. If you could, purchase some HBOT and help get this over the line so we can get this incredible partnership over the line!
KUJI / USK ON UMEE
For those that don't know, Umee is a lending/borrowing blockchain. In a 
 at Umee, they promised to list KUJI / USK on Umee, allowing users to borrow and lend these assets.
GLTO ON FIN + INCENTIVIZED POOL
GLTO token by Gelotto is now live on FIN, with a heavily incentivized pool on BOW offering 63% APR currently. Click here to deposit in the BOW LP, and earn yourself some GLTO as a reward!
NFT QUESTS FROM REKT GANG
Following a successful grant application from the Kujira Senate, Rekt Gang will be bringing NFT quests to Kujira. To read more about what they are, and why this benefits Kujira, I recommend reading this article produced by the team. We look forward to participating!
CLOSING THOUGHTS
Andddd breathe… An action-packed Weekly Roundup with a wild number of updates to bring you. The worst part is, I've definitely missed some — make sure to DM me if I have so I can include it next week. Thank you so so much for reading this series and your continued support of it, you have no idea how special it is that some of you are excited about the new releases. I'm back for good now and it feels better than ever, so look out for another episode soon. Oh also, before I go — Me and KidKuji are cooking up a bloody STORM with the University Outreach Program, and I can't wait to show you guys what we've been grinding on the past few months. Wen?